Volunteers
The best way to find yourself, is to lose yourself in the service of others.
-- Ghandi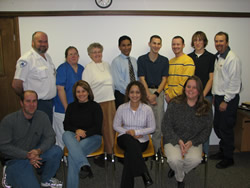 Thank you for your interest in the Lancaster EMS Volunteer Program. As a volunteer with us, you become part of a growing family that truly cares about its volunteers, employees and patients. Lancaster EMS offers a unique opportunity for individuals to learn at their own pace in a busy EMS system. Whether you are a new or seasoned provider, or just starting out as a new healthcare provider, you will have the opportunity to learn with some of the best Paramedics and EMT's in the business. The majority of our preceptors have been certified as instructors in classes such as: EMT, CPR, BTLS, Paramedic, ACLS, PALS and many more. Whether your goal is to take a paid position or remain as a volunteer, Lancaster EMS can help you on your path toward the future.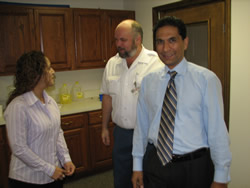 For those individuals that have already received their medical training, Lancaster EMS offers a gradual stepping up process from Trainee to Crew Chief through evaluations and critiques given to you by your peers. This offers the interested individual a chance to learn and fine tune their EMS skills and knowledge through hands on experience and personal feedback. For those individuals that have not yet received their medical training, we welcome you as well. If you are working towards your training or you are just interested in volunteering, we offer a variety of other opportunities such as: wheel chair attendant and non-medically based tasks. We also like to encourage our non medical volunteers to receive their EMT certification. With active volunteers we also offer continuing education classes, normally at no cost to the volunteer.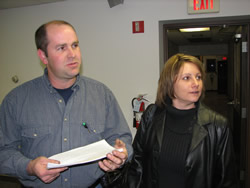 Our volunteers are heavily involved in the organization for emergency and non-emergency patient care duties. Some of the non-emergency duties include standby's at: Downtown Lancaster events, Long Park events, Dutch Wonderland, Barnstormers games, Clipper Stadium Concerts and many sports events throughout the year. Some of our volunteers have gone on to paid positions here at Lancaster EMS. Being a volunteer does not guarantee a paid position, however many have been hired through the volunteer program.
As a volunteer with us, you become a part of a family that is committed to community service. Lancaster EMS can help you on your path toward the future.
Prerequisites:
The provider must have a current certification in First Responder, Emergency Response, EMT, Paramedic or PHRN. If the provider does not have any current certification, he/she must be in an EMT class where CPR, bandaging and splinting has been completed. The provider must also be currently certified in CPR with AED.

Lancaster EMS requires all volunteers to put in 24 hours a month until they reach Crew Chief/Driver status, then it is 48 hours each quarter to maintain all certifications.

You must successfully pass a physical, PPD test, drug screen, background and driving history check before being accepted into our volunteer program. These tests will be at no cost to you. You will also be provided with a thorough orientation.
Want to know how you can volunteer for Lancaster EMS?: Click here for details
If you wish to serve your community, and are up to the challenge, please contact Richard Canard, Volunteer Coordinator, at (717) 481-4841, extension 115 or via e-mail at: richard_canard@lemsa.com